The Alliance is an international umbrella organization for NBIA lay advocacy groups. It started in January, 2012, in conjunction with the kick-off meeting of the European Union funded project TIRCON (Treat Iron-Related Childhood-Onset Neurodegeneration).
The Alliance members' agreements comprise the following areas of cooperation:
While each country has their own legal entity, we share common goals in helping NBIA families coping with these rare disorders, promoting improved health care with access for all those affected and supporting NBIA research to find more effective treatments and ultimately cures for these disorders.
We are working together on a strategic plan for the future that we all endorse and will implement together.
We display the Alliance logo on our websites and in literature to show we are members of a worldwide collaboration.
We encourage the growth of NBIA organizations in other countries and strive to help newly developing groups by sharing our knowledge, and being a resource to help them flourish and join our Alliance.
We are represented by the lay leaders of each country's NBIA organizations and a Scientific Advisory Board of leading NBIA researchers (with representatives from the TIRCON consortium) and clinicians that share our vision of collaboration and cooperation.
We are willing to network and exchange experiences with other organizations that share our goals in the field of rare diseases.
We would like to expand our Alliance to other countries, so if you are interested in starting a group, please contact us. We will be happy to help you with organizational questions and support in finding other NBIA families in your country. Belonging to our Alliance will empower your organization and give you strength when promoting NBIA awareness in your country.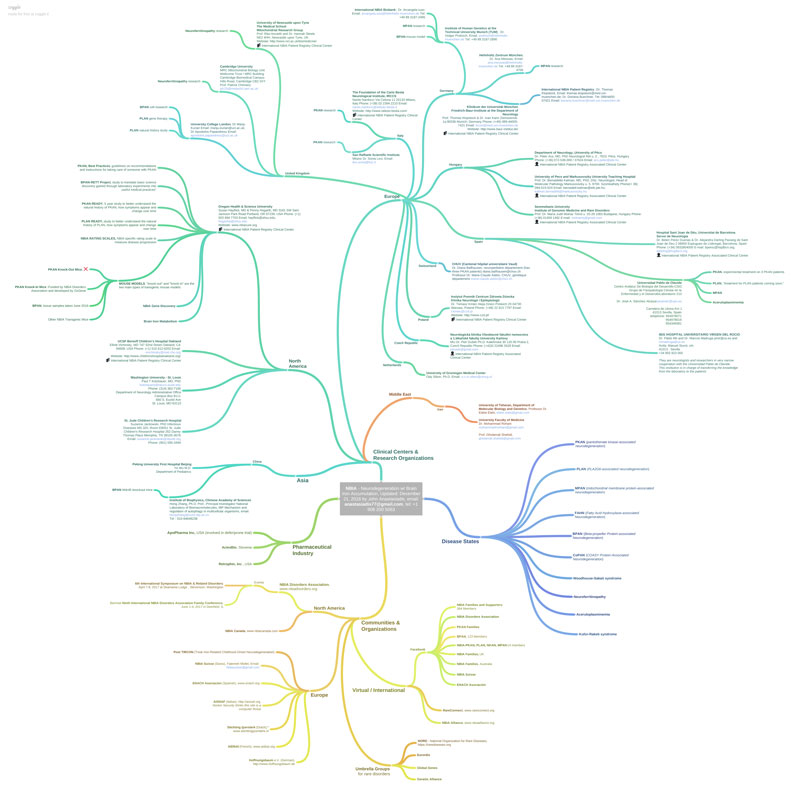 NBIA Resources Mind Map
An interactive map of Worldwide resouces, such as clinical centers, research organizations, pharmaceutical companies, patient organizations, online resources, and more.